The best place where you can see how Swedes are hooked on VR

VR (Virtual Reality) is one of the latest technologies that marketers are trying to wrap their heads around to figure out how to best utilize the tool to achieve brand objectives.
Here in Sweden, the VR scene has been attention-grabbing for many years. Accordingly, the number of startups working on VR has increased and a lot of interesting VR technologies can be seen.
I currently joined  the biggest VR event in Stockholm. So I'd like to share how it looked like.
VR Open House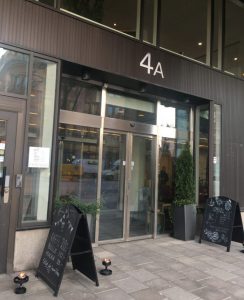 Address: Embassy Tegelbacken 4A, 111 52 Stockholm, Sweden
VR Open House is the biggest VR event in Stockholm. The purpose of this event is to create an opportunity to connect the VR community with the general public and those who have yet to try virtual reality.
Several demo stations, where you can Immerse yourself in a variety of VR experiences on the show floor, were set for guests to see how these brands developed VR into marketing, network, share interest and have fun.
The event is held once a month and every time different speakers discuss how they have developed their technologies and how the technologies have been applied for ads, TV commercials, etc.
Organizers
VR Open House is organized by VRSverige.se, Symbio and Sightline Vision AB.
VRSverige.se
Scandinavia's biggest online publication about immersive technology. Articles, newsletter, podcast in Swedish.
Symbio
World-class IT development, focusing on VR/AR and other innovative technologies for early-stage clients and projects.
Sightline Vision AB
Sightline Vision AB, a 3D Visualisation and Virtual Reality Studio started in 2000, creating compelling experiences for urban planners, residential and commercial property developers, to be used by buyers and investors to create buy-in and support decisions. Our flagship software product Neo4 X, based upon game engine technologies is being used by Property developers in Singapore, Malaysia, Norway and Sweden. In addition we produce 3D renderings, animations and 360 movies.
What you can hear from guest speakers?
VR Open House invites guest speakers from different corporations. For example, VR Open House #6's guest speakers were
Magnus Rudling: Sales Manager – Vobling
Patrik Forsberg: Founder – Stiller Studios
Pasi Helin: CCO – MediaMonks
Johan Hagegård: CEO – IMRSV. Studios
Sebastian Otarola: Creative Technology Director – DDB Nordic
Tomas Wall: CEO – Stiller Studios
They have worked with global companies such as Audi, McDonald's, etc. So during the discussion, they even talked about tough struggles when they were tackling technological difficulties and meeting their customers' demands. For instance, Sebastian Otarola talked about their current great product Happy Goggles.
Schedule
VR Open House's schedule is usually …
17.30  Doors open – Mingle & Food
(the floor with VR stations/demos are open during the stage program ).
18.00  Introduction on stage – VRSverige.se
18.20  Speakers on stage
19.10  VRSverige announcements
19.20  PAUSE
19.30  Panel discussion
20.00  Summary, VRSverige.se
20.10  2 hours for mingle and VR demos
22.00  Doors close
VR Open House enables you to full access to virtual reality in Sweden. During this event, not only can you get the chance to test the hottest VR products, but you can also expand your network together with them.They are warmly welcome you at Tegelbacken 4A, where we are building Sweden's coolest meeting place for VR.
VR has such an amazing potential for being applied to many fields such as education, amusement, medical services etc.
I'll keep you up to date about what's going on in Stockholm!