The best Sento in Himeji is located just next to the most reasonable Izakaya restaurant in Himeji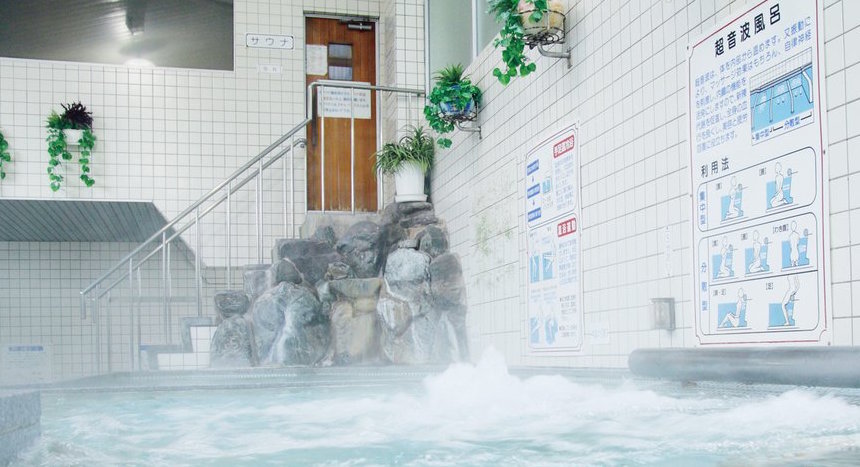 Whenever my foreign friends come over to Japan, I try to let them experience as many Japanese cultural activities as possible. What can excite international people most?
Well, there are many many activities for sure, but taking them to "Sento" (public bath) could be the most exciting and the best way of embarrassing them since we are all required to strip naked, which they are not used to.
The atmosphere of Sento is really peaceful and local, which reminds me of my childhood. When I went to my mother's hometown, my relatives and I used to go to Sento.
We played in a huge bathtub, I sometimes drowned there, some crazy customers yelled at us, we washed each other's back, etc. I have a lot of memories in Sento.
Sento is a type of Japanese communal bath house where customers pay for entrance and "share" bathtubs with other neighbors (customers). Japanese public baths usually open between 3 and 4 pm. So, you can see a "Noren" (curtain) bathed in sunlight at sunset and a lot of people going through it to enter a public bathhouse after they finish their work.
There is a slightly elevated reception desk just inside the entrance. This is where you have to pay to get in. The changing room has a high ceiling and a spacious feel. Here, you have to remove all your clothes, including underwear. Everyone is required to bathe in the nude, which must be very embarrassing for foreign people.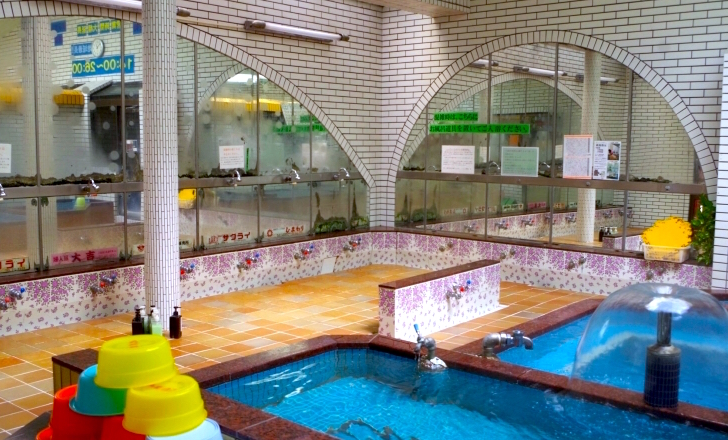 When you are ready, you go into the large bath hall that has a washing area and several different types of tubs like cold water bath, pulse bath, herb bath, etc. Nowadays, there are many people who have a bathtub at home but still regularly visit a bathhouse just because they take immense pleasure in taking a long soak in a huge tub.
A majority of public baths also have saunas in the bathhouses, which also attract people to the Sento. Therefore, in particular, among alcohol lovers, going to a public bath to freshen up before drinking has become really popular.
Public bathhouses became ubiquitous back in the 17th century. Obviously, there was at least one in every neighborhood in Edo (Tokyo). In those days, bathhouses had rooms upstairs that bathers were able to relax in.
There were all kinds of customers, including sword-carrying Samurai (but no Ochimusya maybe) since bathhouses were places where people were able to socialize with one another regardless of social class.
Modern-day bathhouses have unique, enjoyable features as well. For instance, a Japanese-style garden can be seen right outside the changing room in this Sento. The mixture of greenery and seasonal flowers is designed to help you bask in the afterglow of bathing.
The exterior of this bathhouse was made to resemble that of a castle. In fact, it is not unusual for bathhouses to adopt the architectural styles of such important buildings as castles and temples. Going to one of these places gives you the kind of luxurious experience that you do not get in everyday life.
Most bath halls feature a landscape mural for your enjoyment. This is Mt.Fuji, a symbol of Japan. Mt. Fuji is actually the most common theme for Japanese public baths. The mural paintings are done by specialist painters. Just four colors of paint are used. No sketch is drawn first.
The new mural is painted right over the existing one. The painter gets started in the morning and completes the mural before the bathhouse opens in the late afternoon.
The completed work presents a spectacular outdoor scene that you can gaze at while soaking in the tub.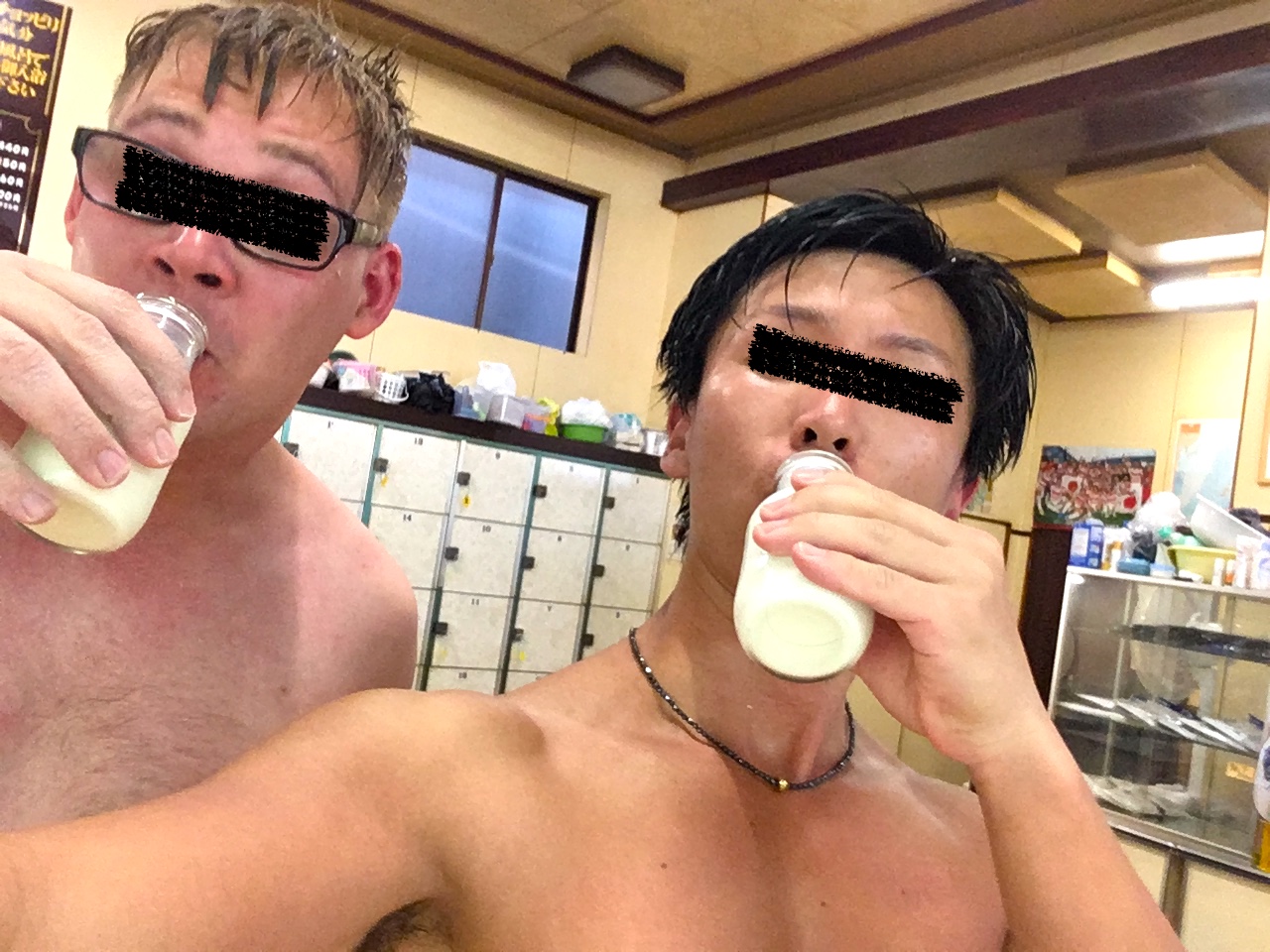 Once you finish freshening up, there is one more thing that you have to experience, which is drinking a bottle of milk with your hands on hips.
I have no idea why this has become our tradition, but anyway, you should do it.
Then, people would say, "oh, this person knows much about our culture".
You are going to be cool with it!
Public bathhouses are not just places where you go to scrub yourself clean.
They give you a chance to temporarily escape from the troubles of everyday life and truly relax.
The Most Popular Sento in Himeji
As the time has changed, the number of Sento has decreased because now every house has a bathroom. I was able to see a bunch of Sento in my childhood, but now only several public baths can be seen around Himeji Station.
Since I was hooked on Sento before, I visited a number of public baths in Himeji. Based on my experience, in terms of overall value like reasonableness, accessibility, sanitary conditions, etc, I recommend Morino-yu to you as the most popular Sento in Himeji.
It only takes 5 minutes to go to Morino-yu from Himeji Station. So, the accessibility is perfect!
・Morino-yu
Address: Minamiekimae 25, Himeji, Hyogo, 6700962, Japan
Tel: 079-222-4174
Web: http://morinoyu.com/
Moreover, you will be surprised at the fact that the entrance fee is just
¥420
(elementary school students:
¥160/
 babies:
¥60
).
It has not seemed to change since I was a child and I am pretty sure that this public bath is one of the cheapest baths in Himeji.
Furthermore, there are 8 different types of bathtubs such as jet bathtubs, cold water tubs, low to high-temperature bathtubs, etc. Not to mention, a sauna is also equipped.
Actually, Morino-yu is located just next to Akebono Store, the cheapest Izakaya in Himeji. So, you sweat a lot in the sauna, freshen up, then go to Akebono Store to get a dewy beer can.
This is how local Himejiite enjoy their everyday lives (you can see a bunch of people doing this). 
Morino-yu and Akebono Store would be a winning combination for Sento lovers. So, why don't you try it if you want to be more familiar with Himeji?