Japan's Economic Miracle after WW2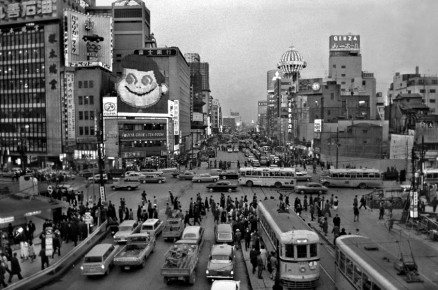 Photo: Tokyo 1964 "Skiyabashi Crossing" Japan Press Research Institute / KK Kyodo News
It had been just 20 years since the loss of the war, the world called Japan's high growth economy 'Japan's miracle' that allowed Japanese people to make various wishes come true.
The high growth economy where people believed that they would be able to become more well-off tomorrow than today was guided by one theory.
The average Japan's GDP growth rate from 1955 to 1974 was 9.1%, contrasting sharply with the period between 1993 and 1995 (0.9%).
The economic growth lasted for about 20 years from 1955 to 1974.
1945     Japan lost the war
1950    The Korean War started (~ 1953)
1955    The economic growth started
1956    An economic white book was published 'The nation is no longer in an immediate postwar period."
1960    The struggle of the Japan-U.S. Security Treaty/ The project of "double income" (Ikeda Cabinet)
1964    Tokyo Olympic Games
1968    GNP became the world's second biggest economic power
1974    Stable economic growth period started
1989    A stock price reached the highest (¥38,915) in history
1991    Economic bubble burst
【Beautiful Japan】Japanese Lamp(LED)縦格子行燈
Through experiencing these milestones, Japan was able to rehabilitate the economy and became the world's second biggest economic power.
What was behind it? How could Japan make good use of a number of opportunities?
In those days, the government had a strong and pure ambition to complete the restoration of a war-torn country, including reviving the economy and reconstructing the cities, which can be translated as hungry spirits.
On the other hand, companies and workers were also eager to help the government accomplish it together, thus working very hard.
During the economic growth period, Japan faced not only positive incidents, but also negative ones which might have deteriorated the country (the economy and the society).
However, the government translated policy into action and it turned out very well. Therefore, people were able to have faith in them. (Now we do not)
In the following articles (maybe more than 10), I will discuss the details of the milestones and other significant factors of "Japan's Economic Miracle (after WW2)" chronologically.
I believe this can be a perfect guide that helps you understand why Japan's economy recovered in such a drastic way.
【Beautiful Japan】Japanese Lamp(LED)縦格子行燈