How to buy Acne Studios clothing cheaply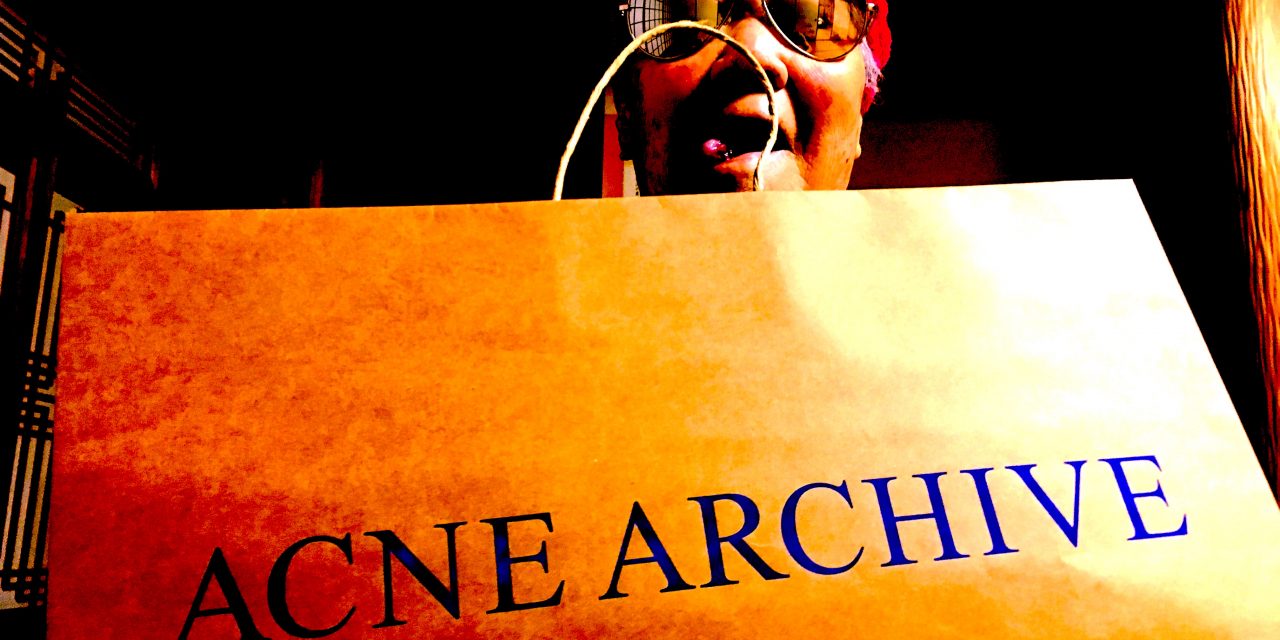 An acronym of "
Ambition to Create Novel Expressions
," 
Acne Studios
 was founded by Jonny Johansson and three colleagues in Stockholm in 1997. The founder Johansson created 100 pairs of raw denim jeans as gifts for his friends and family.
Then, a label was born. The line now includes a range of men's and women's ready-to-wear featuring eclectic materials for those who do not believe in conventional fashion. Acne has already sold these products in more than 50 countries.
In Sweden, this brand is regarded as high-end since a lot of Swedish fashion brands are categorized as fast-fashion.
Recently, Acne has accelerated internationalization and has already opened flagship shops in N.Y, London, Paris and Tokyo.
Therefore, Acne Studios has become very popular in Asia too.
In fact, I've seen a number of Asian tourists coming to the stores and buying a whole bunch of goods as if they're dealers. (Or maybe they would be selling them in their countries later)
In Japan, they launched a joint venture with Tomorrowland, a Japanese fashion brand which is also classified  as high-end.
I've been a big fan of Acne Studios too because it is very stylish and simple. Also, I believe that it won't look old-fashioned in several years time. However, the only thing is that the price is very expensive especially outside of Sweden.



For instance, a shirt often costs roughly $200 to 250 (For me, this is very expensive) in Japan. A variety of costs are added to original price (Sweden) and from my point of view, the original prices in Sweden is 30% to 40% cheaper than prices in Japan.
Acne in the Japanese second-hand market
On the other hand, since this brand has established hold in the Japanese fashion market, you can sell your second-hand Acne's clothing very easily.
I had worn Acne's jeans for 3 years from spring to summer to fall to winter, during every season. It had got damaged a lot so that when I decided to sell it, I expected to be able to sell it for $5 or so.
Surprisingly, Zozotown, a Japanese apparel online shopping site, offered $30 to me, which was much higher than I expected.
However, still a $200 shirt is pricy? Yes! So today, I would like to share how we can buy Acne's clothing cheaply!
【Beautiful Japan】Japanese Lamp(LED)縦格子行燈
Address: Torsgatan 53, 113 37 Stockholm, Sweden
Business Hours: 11am ~ 6:30pm
Acne Archive is an another type of Acne's shop where you can buy their off-season clothing very cheaply (usually 50% off).
However, the goods are neither second-hand nor damaged.
After Acne Studios shops start offering new-season lines, current goods are moving to Acne Archive.
Therefore, if you are lucky, you can find super cool stuff and buy it by 50% cheaper than its original price.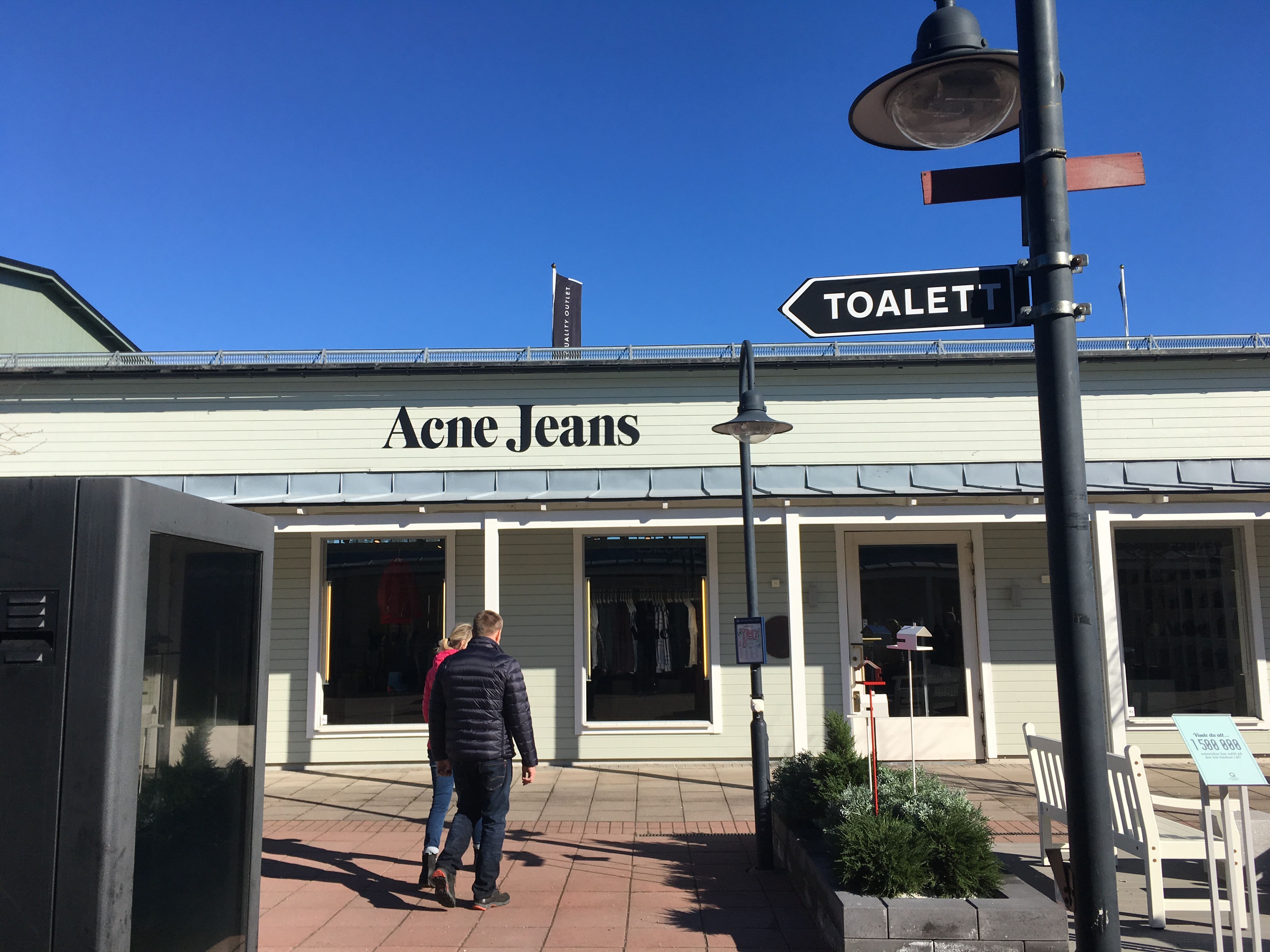 Adress: Stockholm Quality Outlet, Flyginfarten 4, 177 38 Järfälla
Business Hours: 10am ~ 8pm
Acne Jeans, located in Stockholm Quality Outlet, is same as Acne Archive.
They also offer off-season products and usually 50% cheaper than original prices.
Which shop is better for shopping?
Well, both of them are not so different. The biggest difference between them is accessibility.
Acne Archive is located near downtown, but Acne Outlet is not.
If you do not have a car, you have to take a train and bus to get to the Outlet.
Product lines are also same, but Acne Outlet is relatively speaking more organized for display and a little bit spacier than the Archive.
Another benefit for international visitors is that you can get a tax refund if you buy clothing in Sweden (Europe). Both Acne Archive and Outlet give you a tax return slip if you leave Europe within 3 months after shopping.
The amount of refund really depends on how much you spent, but I spent 2,496 SEK and I will be able to get 319 SEK (12.7%) later.
If you buy goods at Acne Archive and/or Acne outlet, you will save 50% of original price, get a tax refund, then you can get a good deal from a second-hand clothing shop eventually!
Shop assistants at both of them are very kind. You will definitely enjoy it!
If you're an Acne Lover, check out these articles below too, please. The more you know about Acne, the more you can make your fashion life better!
→ 2017's most sensational Acne Studios product
→ How to get Acne Studios rare items
→ Acne Studios and TOMWOOD might help you become rich in Japan
→ 【Beautiful Japan】Japanese Lamp(LED)縦格子行燈