A marked shift in Japanese young people's jobs from manual occupation to restaurant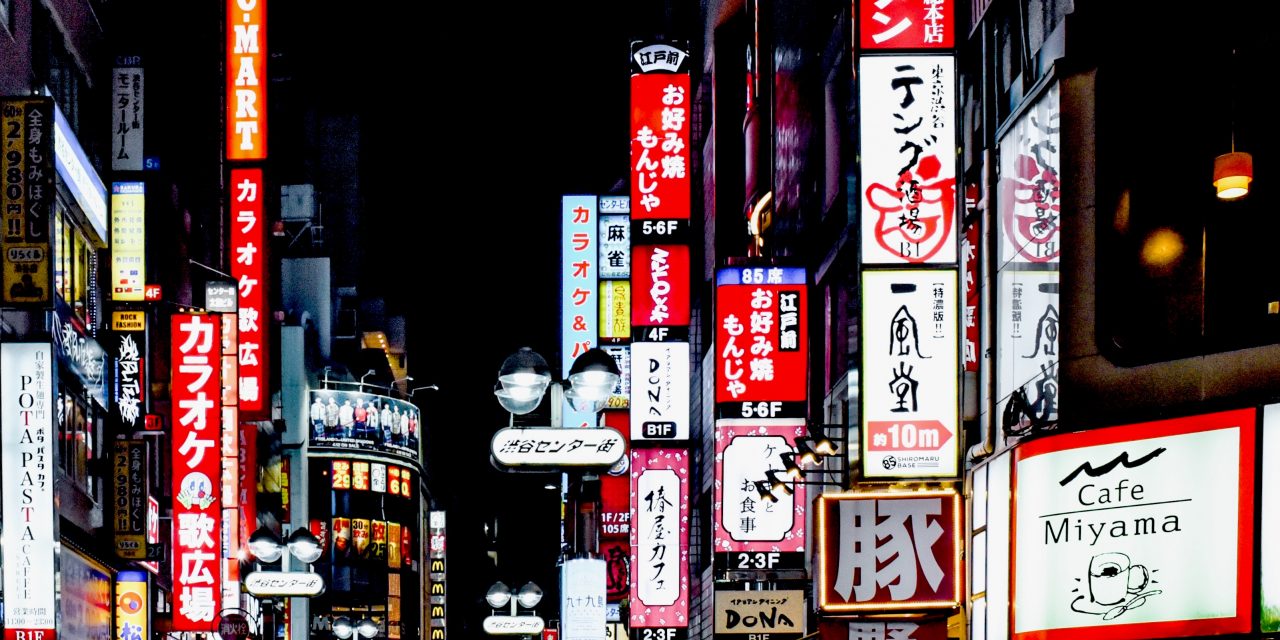 In the recent post regarding Akebono Store, the cheapest izakaya restaurant in Himeji, I touched on the dramatic increase in the number of restaurants including bars and pubs in Himeji. This increase has been accelerated by the completion of Himeji castle's restoration work as it skyrocketed the number of both domestic and international visitors to the city.
However, it seems like this boom has happened not only in Himeji but probably all over Japan ever since the Abe Government started being geared toward increasing inbound tourists.
Currently, we have had a meeting with a restaurant chain owner along with a restaurant business consultant, and I completely understood its mechanism (why the number of restaurants has skyrocketed in the last several years).
Based on our experience, it is also associated with young people's mindset.
A 25 Trillion Yen Industry
According to a recent study reported by Japan Food Service Association, the market scale of Japan's food service industry is ¥25 trillion, which increased by 2.2% in 2015.
・Restaurants: ¥9.7 trillion (+2.7%)
・Soba/ Udon: ¥1.2 trillion (+5.8%)
・Sushi: ¥1.4 trillion (+1.5%)
・Other types of restaurants: ¥1.2 trillion (-5.5%)
・Bar/Cabaret/ Night Club: ¥2.6 trillion (+1.2%)
・Cafe: ¥1.1 trillion (+3.2%)
・Izakaya: ¥1 trillion (+2.8%)
etc…
Despite the decline in population, the market rose due to multiple factors such as the increase in foreign tourists, the rise in per capita budget for dining out, etc.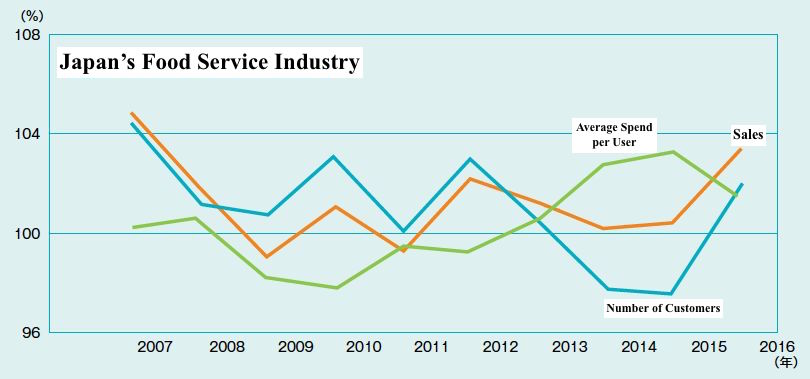 Japan Food Service Association's study
The Japan Food Service AssociationIn's study also shows that in 2016, the sales, the average spend per user and the number of customers in the food service sector increased compared with a year earlier.
As a result of the market growth, the number of food-related service providers has also increased in Japan over the last several years.
Rise in Bankruptcy
On the other hand, the number of restaurants' bankruptcy has risen in the last several years and it reached 762 in 2017, which increased by 19%.
574 (2013) → 617 (2014) → 622 (2015) → 724 (2016) → 762 (2017)
・Specialized Restaurants: 203 (+13.4%) *Japanese, Chinese, French, Italian, Korean … restaurants
・Ordinary Restaurants: 200 (+34.2%)
・Izakaya Restaurants: 115 (+35.2%)
・Cafes: 59 (+34%)
・Home Delivery: 43 (+7.6%)
・Takeout: 23 (+27.7%)
According to an investigation conducted by Tokyo Shoko Research,  a majority of owners of the restaurants which went bankrupt mentioned that a sudden rise in buying prices and in personnel expenses hugely affected their businesses. Since a majority of restaurant businesses are started as sole proprietorships, it is very difficult to tolerate this type of cost increases.
In fact, 88.8% of the restaurants went into bankruptcy with liabilities of ¥100M, meaning that a majority of food service providers start their businesses with a small capital.
Deregulation
As you can tell, it is very challenging to survive in the industry. On the other hand, it seems to be really easy to start a food service business in Japan.
The Izakaya restaurant chain owner whom we currently had a meeting with also mentioned that the government has deregulated in the restaurant industry.
For instance, in the past, if someone tried to start a restaurant business, the city required him (her) to do a lot of things like submitting a ton of documents to many different public institutions, testifying that a fire prevention system was ok and sanitation facilities were good, etc.
The owner even said, "now you can do it from tomorrow!"
Generally speaking, the Japanese government is very conservative. If there is something that is unbeneficial to the country or to them, they will definitely regulate industries in order to prevent it. However, as for the food service industry, they have deregulated in order for people to get into the industry more easily.
Take Himeji for example. The increase in the number of restaurants has been accelerated, many of them have been unable to survive, but still, this situation has been spurred as if the government encourages people to start up food services although some sort of gap between supply and demand has been claimed already by restaurant owners.
Why?
I deem that this is because the government has already been aware that the high turnover of the izakaya restaurants (or any food service business) is really beneficial to them in terms of revenues.
When people start up restaurant businesses, they usually need to borrow money from banks. I do not know why, but banks lend money to them relatively easily in the case of food service (I guess that the government also encourages banks to lend money to people considering opening food businesses only because they want to keep this situation).
After that, they spend the money on installing cooking appliances, remodeling stores, ads, hiring people, etc. So, kind of money comes and goes. However, as their capitals are small, they tend to give up after a couple of years. Then, newcomers will be welcomed and spend money like the former people did.
At the end of the day, this turnover leads to the increase in the governmental revenues.
However, I was wondering why still many people want to start up food businesses despite knowing this fact.
A Marked Shift in People's Job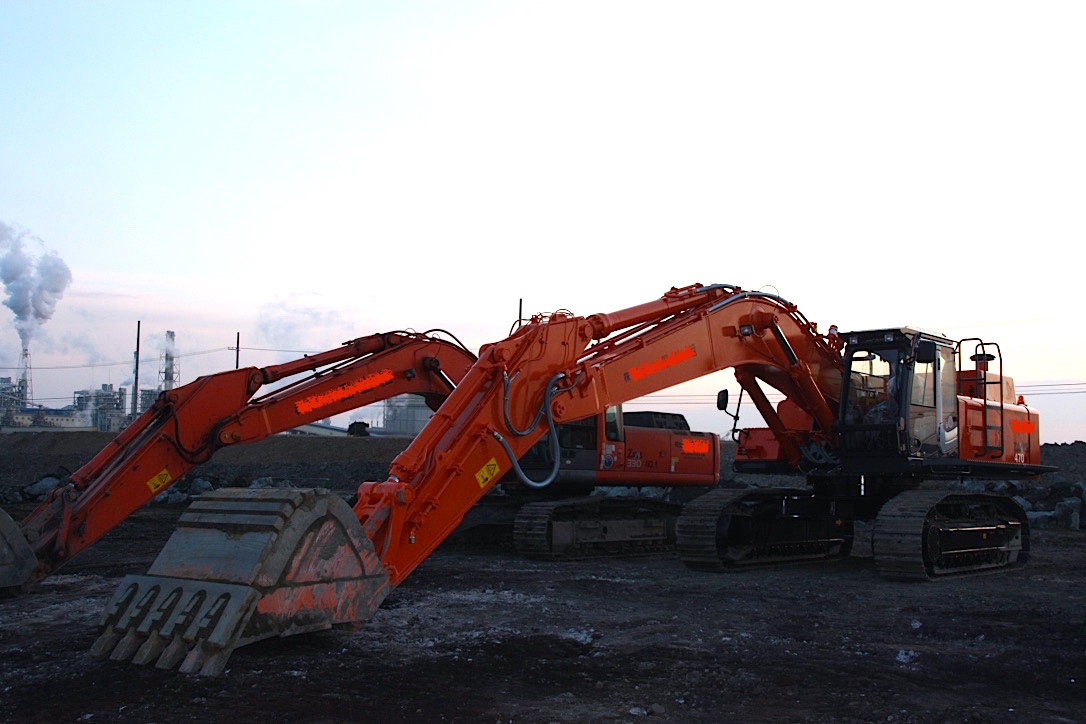 This is just our guess, but we think that a marked shift in young people's jobs from manual occupation to food service has happened. Since our company was in the construction industry for five decades until several years ago, we know much about the characteristics of the sector like what kind of people usually work, how the business situations are going on, etc.
In the past, many junior high school or high school graduates usually worked in the construction sector like as carpenters, operators of construction machines, scaffolding builders, etc. However, I do not think that young people want to work in the industry now just because the wage is not expected to increase significantly like before.
In fact, in the last several decades, the construction business market has tapered off, salaries have gone down, the rules have become more strict, etc. So, there is no point in taking on this *3K business for young people.
*3K: Kiken (Dangerous), Kitsui (Tough) and Kitanai (Dirty)
Now, it has sort of stabilized temporarily due to the reconstruction of 2011's tsunami and earthquakes and the constructions for the 2020 Olympic Games (only in Tokyo, though), but if you look at other areas, the situation is very different negatively.
Then, I guess many young people have chosen the food service industry. What I have noticed recently is that there are a large number of young restaurant owners like early twenties. They usually gain experience for a couple of years, working as part-time workers in restaurants. After that, opening their restaurants starts to be considered. In addition, there is an existence of food business consultants behind it.
Even if the young people gain experience as cooks or bartenders (or something else), they are still amateurs when it comes to business management. Therefore, the consultants make approaches to them in order to propose their consultation services. Then, they are able to realize opening their restaurants in a short period of time. I get this information straight from the horse's mouth.
Furthermore, I have asked some young izakaya, pub and bar owners the reason why they decided to work and run businesses in this industry. Many of them simply answered, "Because it's cool and I can say, I run a restaurant"
According to my boss, this sort of situation was also able to be seen in the construction industry decades ago. Young workers in the sector were longing to start independent businesses (of course in the same field). They usually invited two to three either their friends or young co-workers, and become sole proprietors. After that, there were a bunch of exits but more entries, which is exactly the same situation as the current condition in the food service field.
As the construction business has shrunk and can be expected to continue shrinking, the shift to food service can also be expected to continue. Hence, this increase cannot be stopped whether good or not (for existing restaurant owners, new entries are nothing more than a new menace).
To sum up, even if you are confident in succeeding in the Japanese food service field, you have to know the fact that the industry has been ultra competitive and the increase in the number of restaurants can be expected to continue for some more decades.