How much did it cost to study in Sweden?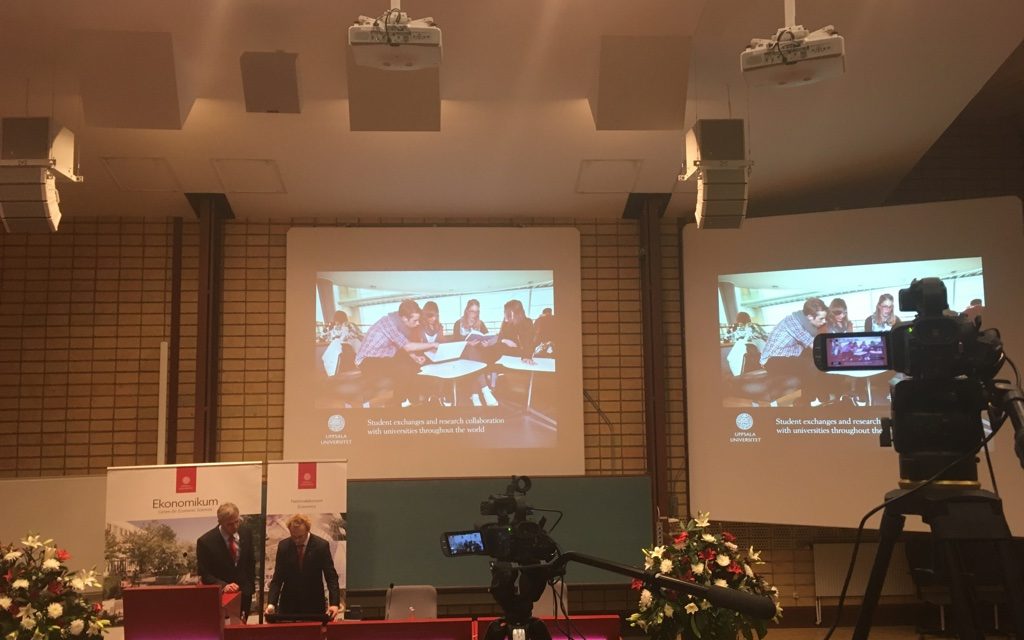 When I was considering studying entrepreneurship abroad, what I cared about was the  5 important factors and how much I would be spending.
I guess for people considering starting up a new business, the cost issue is a life-and-death matter because you always need to be financially ok no matter if your company is funded by investors or yourself.
In Sweden, not only local people, but also EU/ *EEA citizens are exempt from paying tuition fees while we Non-EU citizens have to pay for it…. (I'm Japanese…)
*EEA: European Economic Area
Relatively speaking, tuition fees for higher education in Sweden are reasonable, I mean, when compared with the U.S, Canada, the UK, etc.
Even so, I think we need to be sensitized to it and know how much it costs to study and live in Sweden.
So today, I'd like to share some information about the cost of taking an entrepreneurship program (Master) in Sweden and other countries that I calculated based on information provided by schools.
Duration
School
Tuition Fees (SEK)
Cost of Living (SEK)
Total (SEK)
*1 Year
Linnaeus
 85,000
80,000
 165,000
Uppsala
100,000
80,000
180,000
Lund
120,000
80,000
 200,000
KTH
155,000
100,000
255,000
15 months
*Hyper island
 159,000
  150,000
 309,000
*2 Years
Jönköping
240,000
 192,000
432,000
Halmstad
246,000
 192,000
438,000
Chalmers
280,000
236,040
516,040
Gothenburg
294,600
236,040
530,640
Kalorinska
360,000
240,000
600,000
*Hyper island: Digital Marketing (Part time)/ 1 Year Program = 10 months/ 2 Year Program = 24 months
*Kalorinska: Bioentrepreneurship
The total costs range from SEK 165,000 to 600,000 among the universities. In Sweden, 1 year Master program means that you study for just 10 months, so the cost of living looks very different between 1 year programs and 2 year programs since I set 24 months for latter ones.
Country
Duration
School
Tuition Fees (SEK)
Cost of Living (SEK)
Total (SEK)
*The U.K
1 Year
Lancaster
182,000
126,672
308,672
Manchester
192,400
120,380
312,780
Nottingham
197,028
126,568
323,596
Sheffield
202,800
126,672
329,472
Edinburgh
219,440
129,480
348,920
*The U.S.
Imperial
280,800
154,315
435,115
San Francisco
367,200
114,640
481,840
USC
369,824
138,872
508,696
Babson
412,320
146,208
558,528
Michigan
456,096
161,040
617,136
*BP1 = SEK10.4/ US$1 = SEK8
First of all, the reason why I picked up British and American universities is that generally speaking, studying in the States and England are the most popular among students.
Looking at the diagram, apparently, studying entrepreneurship in the U.S is way more expensive than the U.K.
However, the costs are not as different as the tuition fees in terms of the cost of living between the 2 countries.
When comparing the universities in these 3 countries, it can be clearly seen that the difference in cost is huge among them.
For instance, the total costs amount to SEK617,136 if you study entrepreneurship at Michigan University in the States while it's estimated to be SEK165,000 as for Linnaeus University.
With regard to 2 year Master programs in Sweden, they are competitive with 1-year programs in the U.S.
The British schools don't cost as much as American universities, but basically, they are also expensive to study. In fact, there is no Swedish university whose 1-year entrepreneurship program is more expensive than the British schools.
You get what you pay for?
As I mentioned previously, Swedish education system is not as intense as the U.K and U.S.
In other words, I didn't take as many classes in Sweden as my friends did in the U.K and U.S. Therefore, it should be cheaper than others for sure.
If you really want to be busy with intensive classes, I don't recommend Sweden to you. However, when it comes to costs, Swedish universities don't require you to spend a lot!