Free Entrepreneurship Courses in Sweden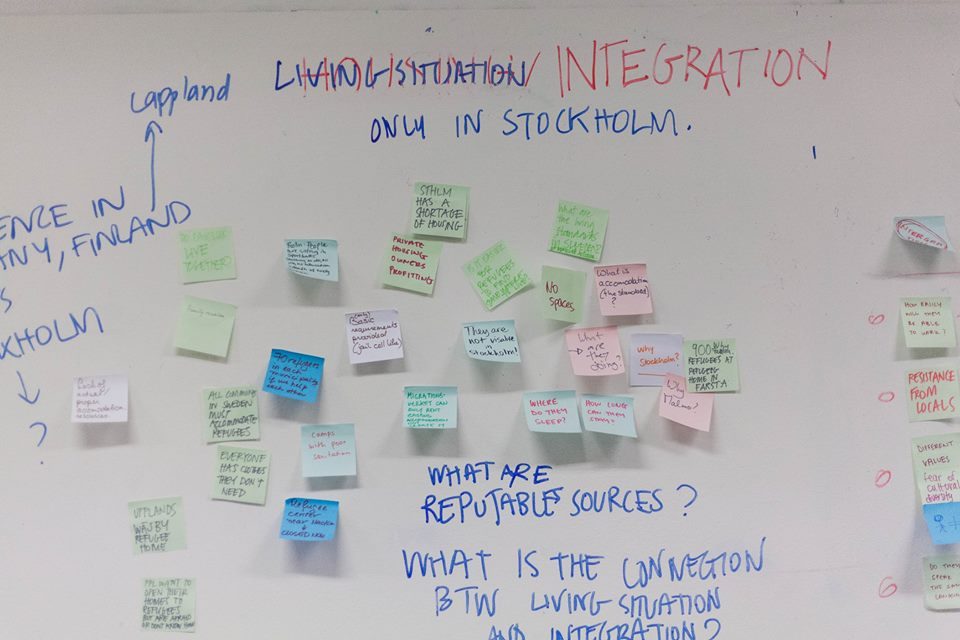 Studying entrepreneurship at the university provides you with a variety of opportunities to gain knowledge, entrepreneurial experience, expand your network, etc.
On the other hand, you might think that it's not worth spending a lot of time, money and so on. In fact, I was often asked the similar type of questions by people like entrepreneurs, startup event participants and even local friends.
"Do you think it's really possible to learn entrepreneurship at school?"

"Did you find something valuable while studying at school?"

"How come you didn't work on your idea instead of paying such an expensive tuition fees?"
Whenever I got this sort of questions or comments, I was stuck. I couldn't feel like explaining why I didn't choose another way (not going to school but finding the opportunities by myself in Sweden) just because I had never thought about it.
As a matter of fact, I've seen some people choosing this way and they seemed to live full lives. They go to different co-working spaces every day, attend startup events a couple of times a week, meet new people, build connection, etc.
In Sweden, especially in Stockholm, you can take short-term entrepreneurship courses offered by organizations and startup communities.
These courses are usually facilitated by experienced entrepreneurs or business developers. Accordingly, many of them are meaningful, and even some are free.
The first program that I took outside of school was Stockholm+Acumen's Social Entrepreneurship course.
Not only was it free of charge, but its discussion-oriented program helped me broaden my horizon.
Acumen
Acumen is a non-profit organization whose mission is defined as changing the way the world tackles poverty by investing in companies, leaders and ideas. In 2001, this organization was founded by Jacqueline Novogratz, author of The Blue Sweater.
*The Blue Sweater is the inspiring personal memoir of a woman who has spent her life on a quest in order to comprehend global poverty and to find powerful new ways of tackling it.
She was tackling various problems that people thought were not solvable such as poverty in slums, the life of unwed mothers and survivors of the Rwandan genocide.
She had already recognized how traditional charity often fails, but how a new form of philanthropic investing called "patient capital" can help make people self-sufficient and change millions of lives.
More than just an auto-biography or a how-to guide to tackling poverty, this book challenges us to grant dignity to the poor and to rethink our engagement with the world.
Since then, their activities have contributed very much to society and been supported by a large number of people. Now, it's been spread around the world.
In fact, Acumen has invested more than $110 million in 102 companies across Africa, Latin America, South Asia and the United States.
They were still developing a global community of emerging leaders with the knowledge, skills and determination to create a more inclusive world.
In 2015, Acumen was named one of Fast Company's Top 10 Most Innovative Not-for-Profit Companies.
Stockholm+Acumen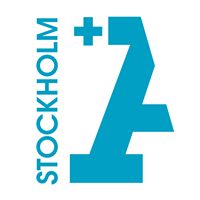 Stockholm+Acumen is part of a global community of changemakers, which shares the vision and supports the goals of Acumen.
Stockholm+Acumen was founded in 2014 by a team of dedicated volunteers who believed that *Impact Investingand Social Entrepreneurship were inevitable in order to change the world.
Therefore, Stockholm+Acumen is a team of volunteers, thus they are not paid to facilitate this course and strive to raise awareness of the importance of learning about Social Business and Impact Investing.
Basically, they are working on educating the local community in Stockholm about them and philanthropy, that produce both social and financial returns.
*Impact investing refers to investments "made into companies, organizations, and funds with the intention to generate a measurable, beneficial social or environmental impact alongside (or in lieu of) a financial return".    Wikipedia
Free Courses
Stockholm+Acumen offers a variety of social entrepreneurship courses. I took part in Social Entrepreneurship last year and based on my experience, their courses are very discussion-oriented and it was more like for generating new ideas through discussions rather than teaching something.
The course was designed to be conducted over 4 weeks (2 hours each session) and facilitated at the Impact Hub by the Stockholm+Acumen team.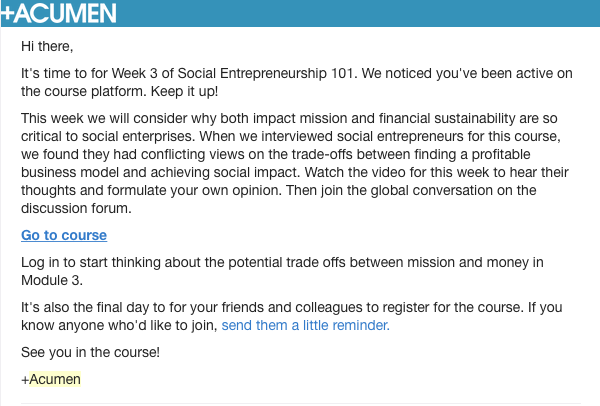 In addition, the course had both online and off-line components, and thus there were some things that I was asked to prepare in advance and some things that I did together with other attendants during the workshops.
Moreover, we were provided some sort of assignment after each session. (Not so heavy). So, it was like a real school.
Develop your network
Through joining their Social Entrepreneurship course, I was able to see a lot of new people. Then, I often met them again at other startup events or workshops.
They introduced me to their friends and my network in Sweden developed gradually. Most importantly, I was able to come across many people considering becoming social entrepreneurs.
Their thoughts and mentality impacted me a lot in a very different way from ordinary entrepreneurs whom I know. Of course, our friendships are still continuing.
I think one of the biggest benefits of attending Acumen's course is that you can be inspired by other social entrepreneurs and it enables you to think of how you can contribute yourself to society while thinking about its revenue model.
Have to balance (between contribution and revenue)!
That's what I often heard when discussing what social entrepreneurship is.