Connecting Israeli startups to Japan
It is widely recognized that a number of large enterprises in the U.S. like Apple, Google, Facebook, Oracle and Microsoft have bought out Israeli tech startup companies in order to acquire innovative next-generation technologies.
E.g WAZE, a traffic & navigation system app, was acquired by Google.
Israel, a country in the Middle-East, became independent 70 years ago back in 1948. The population is about 8.7 million people of whom 75% are Jewish, 21% are Arabic, the rest are others.
Though the country is kind of small, the fact that there're around 8,000 startups has amazed the world. In addition, the number of Israeli corporations whose stocks are listed on NASDAQ is the highest among non-American startup firms.
Now we could see a variety of developments and solutions that they've created in multiple fields such as solar energy, irrigation, IT development, agriculture, etc.
Literally, this small & young country has surpassed not only other rich middle-eastern countries with an abundance of natural resources, but also developed nations like Japan with regard to startup eco-system.
As a result, the country is internationally acclaimed as a startup nation.
The Story Of Israel's Economic Miracle
According to Start-up Nation: The Story Of Israel's Economic Miracle, their innovation-oriented society is attributed to their historical background that they've had to focus on technological developments for military power, as the country has made war with other neighboring countries 7 times since the foundation of the nation.
In Israel, every citizen has to serve in the military from 18 years old (male: 3 yeas/female: 2 years). During the military service, the country analyzes and grasps the information about the abilities of individual members (mostly strengths), that in turn helps them decide which field like programming and hacking they would be engaged in and develop their capabilities.
The country also promotes people to start up new businesses by applying military technologies, which has been prohibited in Japan.
Accordingly, they've succeeded in putting the technologies for military operations into practice for business.
Furthermore, they had no choice but to strive to invent new technologies inasmuch as the nation doesn't have natural resources, contrasting sharply with some other middle-eastern countries that were able to become rich with oil money such as Saudi Arabia and Dubai.
Consequently, it's turned the country into one of the most creative nations around the world.
Japan and Israel
I read the book (Start-up Nation) in 2011 and I was really really surprised by the rise on Israel in tech fields because I had never heard anything about Israeli startups in Japan until then.
Additionally, I didn't know that US companies were not creating every new technologies on their own. Needless to say, Japanese big corporations didn't pay much attention to the business field in Israel in those days either.
Producing such a large number of startup firms and being acquired by international big enterprises aren't always beneficial for the country because startups can't grow into big companies in the country.
However, at least they've enhanced their reputation as a startup nation, thus bringing a lot of attentions to themselves. So, attention-grabbing Israeli startups are expected to be targeted by overseas gigantic enterprises more and more.
Recently, a lot of Japanese companies have started to be interested in Israeli companies in order to catch up with the U.S. in tech fields. In fact, Japanese big corporations like Softbank, Docomo and Sony have either acquired or funded Israeli startups.
Moreover, Prime Minister Shinzo Abe have have held talks with Netanyahu, the current Prime Minister of Israel, many times in the last couple of years. The government announced that it was for discussing humanitarian support regarding issues caused by the Middle East conflict.
However, it seems like Japan has an ulterior motive for having a good business relationship with Israel, as the country has been regarded as attractive in terms of technology.
Aniwo
While the government has tried to build a good relationship with the nation, some young Japanese entrepreneurs have also tried to create startup eco-system for both Israel and Japan.
Aniwo is the very first VC backed startup firm founded in Israel by 2 Japanese entrepreneurs. The company is headquartered in Tel Aviv, Israel, with offices in Tokyo, Japan.
They clarify their mission as "Innovation for your smile"
"Our challenge is to create innovative value for smiles of all people in the world. Our vision is to create the world's best innovation platform to realize our mission by using technologies (AI, Blockchain and The Power of Crowds)."
Good Timing
In 2014, Saurai Incubate, a leading startup incubator in Japan, was determined to establish their first overseas office in Tel Aviv, Israel.
To complete this project, they invited public contributions of proposals from Japanese entrepreneurs who were eager to build startups with them there.
On the other hand, the founders of Aniwo were working on their startup project back then and happened to find this opportunity. They decided to submit a proposal to Samurai Incubate and got selected to join the Samurai Incubate's first overseas office project.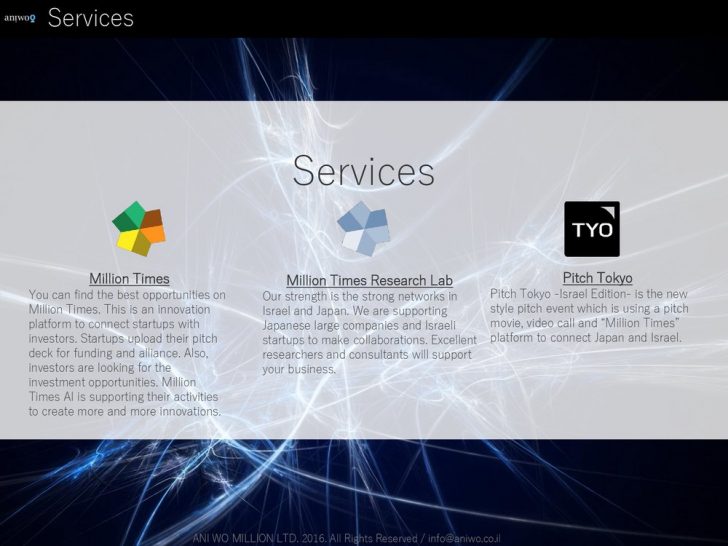 They founded Aniwo in 2014. Since then, they've worked on solving the information gap among Israeli startup firms, international investors and people around the world by building a platform (Million Times) that connects them.
Startup firms can update and explain their business models and plans on Milliton Times. The platform has provided a number of opportunities to local startups and international investors for funding, recruiting and investing.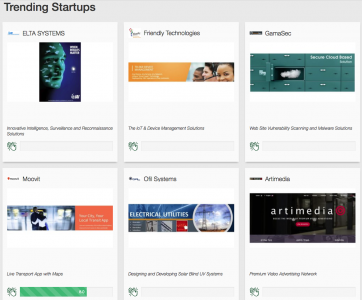 Million Times updates the information about more than 100 startups a month. Obviously, they've enhanced their presence in Israeli startup scene.
In addition, they've organized startup pitch competitions, get-together events, etc in collaboration with Samurai Incubate. Furthermore, they've developed network with the Israeli government, R&D institutions, VCs, Investors and accelerators since their foundation.
Now a bunch of Japanese corporations contact them to visit the country, to see how the technology-oriented business environment looks like and other things.
They play an active part in match-making Israeli startups with Japanese corporations energetically.
The fact that every year 800 startups are founded in this country and the per capita number of startups and VC fundings is the highest in the world will continue surprising the world and accelerate M&A activities.
Therefore, the role of Million Times (aniwo) will help Japan catch up with the global startup boom.