Our income will decrease by 10% in 2020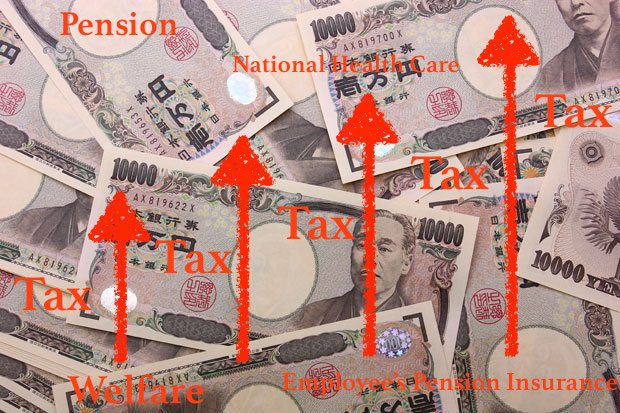 In October, 2019, the consumption tax (VAT) is supposed to increase from 8% to 10% in Japan.
Japan is well-known as the nation having the highest proportion of senior citizens. This requires us to face critical financial burdens for sustaining not only the pension system, but also the national health care system.
Therefore, the 2%-increase in the consumption tax is not enough to cover these necessary expenses expected to rise substantially over the next 2 decades.
Actually, there are a number of economists and business managers even claiming that the tax rate should be increased to 20% like Scandinavian countries as soon as we can.
However, politicians will not implement it or even not consider it because they want to win the next election, meaning that Japanese citizens are expected to not accept the proposal (the 20% VAT).
Hence, the government is considering a plan B.
Employees' pension insurance
From this coming October (2018), the rate of the fee for employees' pension insurance will be increased to 18.3% although previously they announced that the continuous increase would end in October, 2017.
Why?
This attributes to a financial inspection in 2014. Based on its result, they unveiled that the rate (of the fee for employees' pension insurance)  would need to rise up to 25.9% because a large number of senior people start receiving the pension.
Moreover, the number of people who receive it is supposed to continue increasing over the next decades.
However, 25.9% is insane…
The cause of this consequence is the fact that what forces Japanese workers to pay more is not only for the fee for employees' pension insurance.
In the last 2 decades, the cost of social security increased from ¥58 trillion to ¥143 trillion, and is expected to increase while insured people will decrease by 10%.
This means that per capita financial burden will be increasing. Eventually, all of the fees for social security might come to account for 60% of our income.
According to a Japanese famous certified social insurance and labor consultant, with regard to a family that a husband earns ¥300,000 monthly and a wife who does not work (a full-time housewife), their family income decreases from
¥2,874,840 → ¥2,585,880
So, the government will deduct from your salary while raising taxes for your expenditure.