Is Japan against foreign platformers?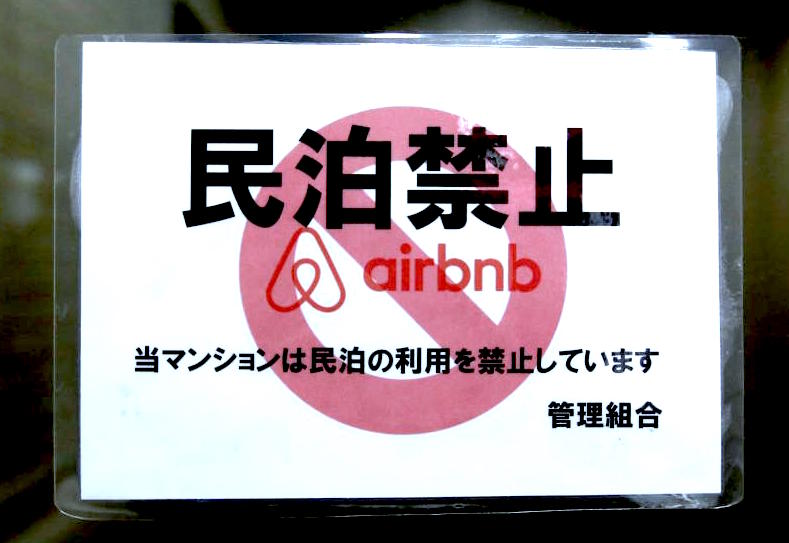 Just recently, Airbnb Japan has announced that all of the bookings arranged between guests and hosts who do not own a "Minpaku" (private home rental) license would be canceled between June 15 and 19.
In order for people who are forced to change their travel plans due to this sudden cancelation, Airbnb will raise a ¥1.1B relief fund and financially support them to secure their accommodations, bear extra charges for changing their flight schedules, etc.
Moreover, if they cannot find accommodations in Airbnb, JTB, Japan's largest travel agency, will help secure substitute hotels and Airbnb will pay the difference.
However, why will Airbnb do such troublesome things?
This is actually what Japan Tourism Agency of the Ministry of Land, Infrastructure, Transport and Tourism ordered Airbnb to do.
The Japanese government has encouraged people to have private home rental businesses as sidelines in order to counter the dramatic increase in foreign visitors.
In fact, the number of guests who stayed in accommodations through Airbnb reached 1M in 2015 and it has continued increasing substantially. However, a majority of accommodations in the Airbnb site were illegally offered, as their hosts did not obtain operating licenses from municipalities. Therefore, the government started to discuss the matter and considered implementing deregulations.
On June 15, 2018, a new law for home rental businesses will take effect, meaning that Japan will allow anyone to have Airbnb businesses officially. This had been considered to be "deregulation", but in reality, the government has tried to tighten up the regulation.
Under the new law, every host needs to file for the private home rental, which requires you to follow a complicated procedure. In addition, the conditions that the Tourism Agency shows have made hosts confused.
・You can accommodate guests for only 180 days in a year.
・You place has to be testified as a safe place by an architect.
・You can be not at home for only 1 hour while a guest stays in your place.
‥ etc
Even if you let a guest stay in a place where you live, this (・You can be not at home for only 1 hour while a guest stays in your place) must be challenging simply because no one wants to monitor what a guest is doing. Not to mention, if you use another property that is different from your place, this is unrealistic. In this case, you are required to outsource the management work.
Perhaps, this is because a number of troubles have been created by Airbnb guests' irresponsible behaviors. Unfortunately, some guests do not have good manners. However, due to the crazy conditions, the number of accommodations has decreased to 3,000 from 62,000 as of June 8.
Kyoto is one of the most popular cities to visit among both domestic and international travelers. The number of visitors has increased dramatically in the last several years.
Although a ton of hotels have opened recently, still the number is not decent enough to accommodate tourists since the demand is large.
In other words, the demand for Airbnb accommodations must be very high. However, as of May 21, the number of the notification for the private home rental business is just 8 (2 has already been approved) in Kyoto.
This is incredible and obviously, the country has tried to protect existing hotel businesses by forcing the terrible conditions. So, if you want to visit Japan's ancient capital, in all likelihood, you have to stay in a hotel or guest house, or commute from another city like Osaka.
Eventually, a number of people in Japan have given up renting out rooms to travelers in Airbnb. However, there is a big issue occurring. Actually, some people have bought an apartment in order to earn money through Airbnb as a sideline.
I remember that last summer, I met a 26-year-old guy at a party. He is a regular businessman working for a middle-sized enterprise, but all along, he was a bit weird since he asked a bunch of attendants for introducing rich people or travelers to him.
Later, I figured out that he borrowed ¥60M from a bank and bought an apartment situated in the center of Osaka for the private home rental business. I blocked his LINE account, as he persistently texted me for the same thing.
However, I was a little suspicious if the story was true because I have never thought about borrowing such a large amount of money and thought that a bank would allow a regular person to take the big money either. Actually, they do and it has caused another big issue (I will discuss it in another article).
Anyway, I do not think that the 26-year-old guy would be able to handle the Airbnb business with the ¥60M-property in a good way at this moment, and I am just wondering how he will move forward.
Again, I realized that something that the Japanese government encourages always turns out to be shit because it is nothing more than a trap to increase tax revenues for them.